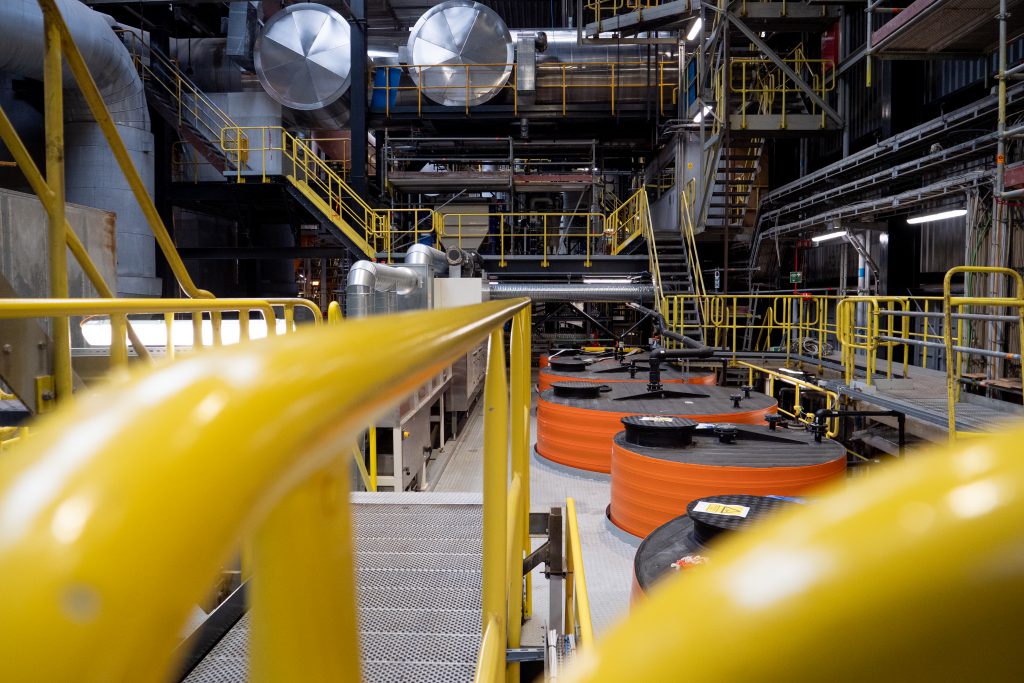 On November 17, Stena Metall, together with the Danish company Vestforbrænding, inaugurated the world's first full-scale HaloSep plant. The plant converts fly ash from incineration processes into useful resources such as metals and salt, as well as purified fly ash. The ash is today classified as a hazardous waste that may only be disposed of in special landfills. The facility is part-financed by EU-LIFE.
In Sweden as well as in many other countries around the world, incineration plants create a significant amount of electricity and district heating for society. A problematic by-product of the process is the fly ash. The ash is classified as hazardous waste and must be disposed of in special landfills, causing carbon dioxide emissions due to transportation, and costs for landfill fees.
HaloSep offers a new, sustainable solution for recycling and cleaning fly ash. The process recovers valuable metals from the ash that, instead of being lost, can be used again. HaloSep also extracts salt, which can be used on roads or in industrial applications. What remains is a purified form of ash that is not classified as environmentally hazardous and can, therefore, be deposited locally at regular landfill sites. This process reduces the overall volume of fly ash produced by about 40 percent, due to the recycled material being separated out. The ultimate goal is for the remaining ash to be used in the production of construction materials.
This demonstration facility is the result of collaborative development work between Stena Metall and the Danish waste and energy company Vestforbrænding. The project, which has been conducted over several years, has been partially funded by EU-LIFE.
HaloSep technology has great potential to reduce the environmental and climate impact of incineration facilities worldwide. Annually, Vestforbrænding alone generates 15,000 tons of fly ash from the 550,000 tons of waste it incinerates to generate district heating and electricity.
HaloSep has already generated interest in several parts of the world and it is not expected to decrease as the demonstration plant starts to deliver results.
Steen Neuchs, CEO of Vestforbrænding, says that HaloSep is completely in line with the new agendas that incineration plants must meet due to climate goals: a cleaner environment with a focus on the circular economy and a responsible use of resources.
"HaloSep is a good example of how we can together achieve our common societal goals with new technology. It is also a good example of what Vestforbrænding would like to see more of; good cooperation between public and private parts. Not least, it is also a good example of how EU funds can strengthen both cooperation and the realization of projects such as this. I expect that as the demonstration plant shows results, it will become clear what HaloSep can do for our owner municipalities and the 950,000 inhabitants in our area," says Sten Neuchs.
"Sustainability means a lot to Stena. Especially important to us, our customers and society is "Care for Resources". Our investment in HaloSep, in collaboration with Vestforbrænding and EU-LIFE, is completely in line with this ambition. Transforming waste into valuable resources is something we should all be aiming for. The intense interest from potential customers around the world is a clear expression of how important this investment is," says Staffan Svensson, MD of the new company, HaloSep AB.
"Stena Recycling Denmark has an important role in the project. With over 80 years of expert knowledge, we have developed the HaloSep technology, which now stands as a full-scale test facility at Vestforbrænding. We are, of course, proud of that. The project shows that cooperation between private and public organizations works and that we, together, are a fantastic team. Our DNA is to take care of the earth's scarce resources, and together with Vestforbrænding we are now taking an important step," says Henrik Grand Petersen, MD of Stena Recycling Denmark.
Due to corona restrictions, the inauguration was held online with speakers from Stena, Vestforbrænding and EU-Life. When the situation allows, a physical event will be held.